Get away from it all on board the 55-foot Kolonahe catamaran as it sets off for Deer Island, home of the best snorkeling in Mazatlan. Enjoy the all-day open bar as you cruise along the coastline, and pass the sea lion colony on your way to the glistening beaches of Deer Island.
Relax on the comfortable deck of the Kolonahe as you snap photos of the Mazatlan skyline. Once on the island, you'll enjoy snorkeling, kayaking, and taking banana boat rides (included), swimming, a hot cooked Mexican lunch, and all around fun in the sun - a wonderful day of fun in Mazatlan!
Kolonahe Deer Island Tour Highlights

Enjoy a cruise in the famous Mazatlan sunshine as you gaze at the city skyline and take photos of the sea lion colony!

Hit the all-day open bar for drinks on the boat and on the beach!

Take a ride on a banana boat, paddle a kayak, or just relax on the beach!

Amaze yourself with Mazatlan's best snorkeling on Deer Island Reef or swimming in the blue water.

Your day includes a hot cooked Mexican lunch as well as continual drinks from the always open bar!
Cruise Passengers: This excursion is open for booking to all cruise passengers except Carnival passengers. If you are on the Carnival Cruise, we suggest our Private Catamaran or our Stone Island as an alternative.
Runs: Tuesday through Sunday at 9:30 AM.
Duration: 5 Hours Approximately.
Departs: El Cid Marina in the Golden Zone.
Includes:
Round-Trip Transportation to the Marina

Catamaran Cruise (About 2 hours)

All-Day Open Bar on Board and on Deer Island

Hot Cooked Mexican Lunch on Deer Island

Banana Boat Rides

Kayaks

Snorkeling Equipment

Snorkeling Guide

Sailing (Weather Permitting)
Don't Forget:
Kids: Ages 2 and up. Kids' price applies to ages 4-12 years. Kids under 4 years are free.
KOLONAHE CATAMARAN (ADULTS)

Ship Price

Hotel Price

Our Price

You Save!

N/A
$62.00

$55.00

10%

Cruise ships don't sell this tour, but you can book it here!

KOLONAHE CATAMARAN (KIDS 4-12)

Ship Price

Hotel Price

Our Price

You Save!

N/A
$40.00
$36.00

10%

Our tours are open to everyone - no matter what country you're from, hotel guests, cruise ship passengers, residents, everyone! All prices are in U.S. Dollars and include all taxes.
IMPORTANT NOTE
THIS TOUR IS NOT AVAILABLE TO CARNIVAL CRUISE PASSENGERS. IT IS AVAILABLE TO EVERYONE ELSE
BOOK NOW AND SAVE!

Date

Time

Adults

Kids (4-12)



OR CALL US TOLL-FREE
1-866-471-4157


Don't worry - English is our First Language!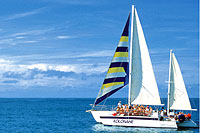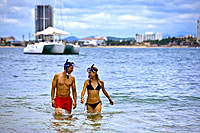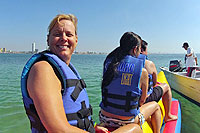 FREE WITH YOUR RESERVATION!



MAZATLAN FUN CARD
OUR ADVICE:
Getting to the marina is very easy. Just hop in a city taxi, either the green and red cars, or the red open bed trucks, and tell them to take you to the marina.
You can also take a pulmonia, one of the little white golf-cart-like vehicles. Make sure to ask the price before getting in. Don't forget - you can barter for a better price.
The bus is also very easy to ride - it goes up and down the highway all day long for about 80 cents for a good bus and 40 cents for an old bus.
Lounging on a catamaran is a great way to pass a day in Mazatlan.
CUSTOMER EXPERIENCES:
"Just wanted to let you know that we had a terrific time at Deer Island. The catamaran crew was wonderful, excellent service & delicious food. I am so glad I found your company...I will put a nice note on Trip Advisor about our day at Deer Island!" - Jackie from Millbrae, California