We offer you the finest Mazatlan airport transportation available. Our fleet of air-conditioned vehicles will transfer you from the General Rafael Buelna International Airport in comfort to your Mazatlan hotel. When it's time to return to the airport at the end of your vacation, we'll escort you to your vehicle to head back to the airport. Nothing could be easier!
PRIVATE TRANSFER RATES
Prices are per vehicle, not per person.
Vans are Available 24 Hours a day, 7 Days a Week
See Also: Shared Airport Shuttles
Vehicle
Capacity
One-Way
Round-Trip
4-Door Sedan
1-3 People
$59.00
$99.00
Express Van
1-8 People
$89.00
$169.00
Sprinter Van
1-12 People
$139.00
N/A
Motorcoach (Bus)
1-40 People
$399.00
$699.00
OR CALL US TOLL-FREE
1-866-471-4157


Don't worry - English is our First Language!

Private transfers are non-stop - direct to your hotel.
If you have more than 12 people, contact us for a quote, we have all sizes of vehicles. Sprinters, Buses, whatever you need.
Our private airport transfers are the fastest and most popular way to travel from the Mazatlan Airport to your hotel and back. These transfers are PRIVATE - meaning just you and your group will be in the vehicle - no other guests. You will travel directly non-stop from the airport to your hotel and back. Your driver will be there waiting for you at the airport when you arrive. No hassles, no worries!

The Mazatlan Tours Advantage

Toll-Free Customer Service to answer any questions you may have. Don't worry - English is our first language! Call us at 1-866-471-4157, or e-mail us. We're happy to help.

You can pay with a credit card - it's safer and more convenient! There's never a surcharge to use your credit card - we want you to feel secure.

Excellently maintained, late-model vehicles for your comfort and convenience. Of course, air-conditioning is included in all vehicles!

No worrying about the timeshare hawks in the airport - you already have a reservation! No haggling over taxi prices, it's all taken care of!

Professional, English-speaking drivers to make your transfers to and from the airport as easy as possible.

When it's time to return to the airport, we'll meet you at your hotel's front door and escort you to your ride back to the airport.

You'll get a Free Coupon Pack upon pickup at the airport, to help you save money in Mazatlan at some of the area's best restaurants, along with a map of the city and other useful information.

Get our Free Discount Card with your reservation to save you money on your vacation!
Note: Vehicles shown are representative of our fleet. We do have several different makes and models though, so your actual vehicle may vary. It's really impractical to show every single one on the website.
ONE-WAY PRIVATE TRANSFERS (PER VEHICLE)

Vehicle

Hotel Price

Our Price

Car (1-3 px)
$65.00

$

59.00

Van (1-8 px)
$100.00

$89.00

Sprinter (1-12 px)
$160.00

$139.00

Bus (1-40 px)
$500.00

$399.00

Prices are per vehicle, not per person.
Available 24 Hours a day, 7 Days a Week

ROUND-TRIP PRIVATE TRANSFER (PER VEHICLE)

Ship Price

Hotel Price

Our Price

Car (1-3 px)
$110.00

$99.00

Van (1-8 px)
$180.00

$169.00

Bus (1-40 px)
$800.00

$699.00
BOOK NOW AND SAVE!
OR CALL US TOLL-FREE

1-866-471-4157
Don't worry - English is our First Language!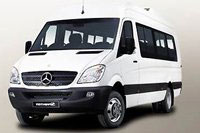 Sprinter Van (Up to 12 People)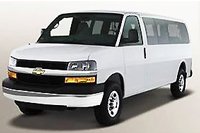 Express Van (Up to 8 People)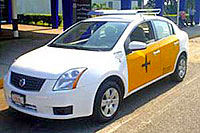 Sedan (Up to 3 People)
Note:
We also have buses available for larger groups.

FREE WITH YOUR RESERVATION!



MAZATLAN FUN CARD
Our Advice:
Don't talk to anyone who comes up to YOU at the Mazatlan Airport, rather than the other way around. They will be timeshare. Just follow our easy instructions we'll send you and you'll be on your way.
MAZATLAN HOTELS

Amigo Plaza
Azteca Inn
Balboa Tower
Best Western
Blue Pacific Suites
Boutique La Jolla
Caravelle Beach
Casa Lucila
Cerritos Resort
Club Balboa
Costa Bonita
Costa de Oro
Crown Bay
Del Real Hotel
Don Pelayo
Downtown El Cid Castilla
El Cid El Moro
El Cid Granada
El Cid Marina
El Faro Mazatlan
Emerald Bay
Emporio Mazatlan
Fiesta Inn
Golden Zone
Hacienda BlueBay
Holiday Inn
Hotel Aguamarina
Hotel Belmar
Hotel De Cima
Hotel Del Sol
Hotel Freeman
Hotel Granada
Hotel Hacienda
Hotel Jonathan
Hotel La Mision
Hotel La Siesta
Hotel Los Sabalos
Hotel Melville
Hotel San Diego
Inn at Mazatlan
Islas del Sol
Las Casitas
La Siesta
Las Flores Hotel
Las Jacarandas
Las Olas
Los Sabalos
Los Venados
Luna Palace
Marina del Rey
Marina del Sol
Marina Tennis
Mayan Palace
Motel Los Arcos
Oceano Palace
Olas Altas Inn
Old Town
Playa Bonita
Playa Escondida
Playa Mazatlan
Plaza Gaviotas
Plaza Marina
Posada Freeman
Pueblo Bonito
Quijote Inn
Quintas del Mar
Riu Emerald Bay
Royal Villas
Sands Las Arenas
Solamar Inn
Suites Lindamar
Suites Venicia
Tiara Sands
Torres Mazatlan
Villas El Rancho
Vista Dorada
VistaMar Hotel
Don't see your hotel listed?
Just ask us!
Mazatlan Mexico Airport
Airport Code: MZT