IS MAZATLAN SAFE?
Mazatlan is one of the most popular tourist destinations in the world, and there is no doubt that safety is a significant concern for many people thinking of living their vacations in this beautiful place.

Furthermore, it's no secret that the capture of the son of "El Chapo" in early 2023, has led some to question whether Mazatlan is safe to visit. But how safe is this destination for tourists? Let us shine a light on the topic.

How safe is Mazatlan?
Find out here.
Many sources of information (and misinformation) are heavily influenced by opinions, ideology, or simply making the most shocking title in a news article instead of facts.

Rest assured, as we will give you actual facts from trustworthy sources.
MAZATLAN SAFETY IN 2023
At the beginning of 2023, the capture of the son of the infamous drug lord "El Chapo" was a powerful signal that authorities were firmly committed to cracking down on crime.

While these events have been raising concerns -and sometimes panic- due to many headlines of articles, it's essential to note that this recent event is not the cause, but safety measurements vary in specific zones and places.

Although the Sinaloa state has been recognized as a place to visit with caution due to crime, many governments, such as United States and Canada, have expanded their official travel advisory in this regard, listing Sinaloa but excluding Mazatlan as the zones restricted to travel.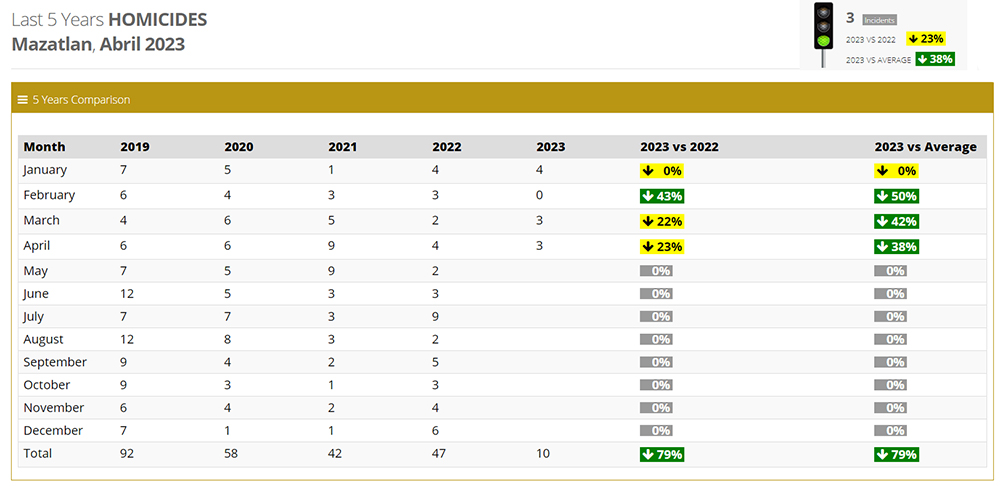 Local police forces have proudly reversed their previous reputation and now rely on solid community policing methods that have helped to bridge the gap between citizens and authorities.

In the years since, the city has seen a dramatic reduction in crime rates, allowing locals and visitors to enjoy Mazatlan's beauty with peace of mind.

The Mexican government has invested heavily in security infrastructure and police presence, ensuring protection for locals and visitors. Only recently, in April 2023, more than 10 thousand men from different safety entities were deployed in Mazatlan to ensure tourists can feel safe when traveling.

Furthermore, the heightened police presence has allowed for faster response times and increased surveillance, resulting in improved safety in Mazatlan. Tourists and locals alike can feel secure when out and about in the city.

Additionally, the majority of crime is concentrated in Culiacan, located 218.1 km away from Mazatlan; this is evidenced when comparing the crime rate zones: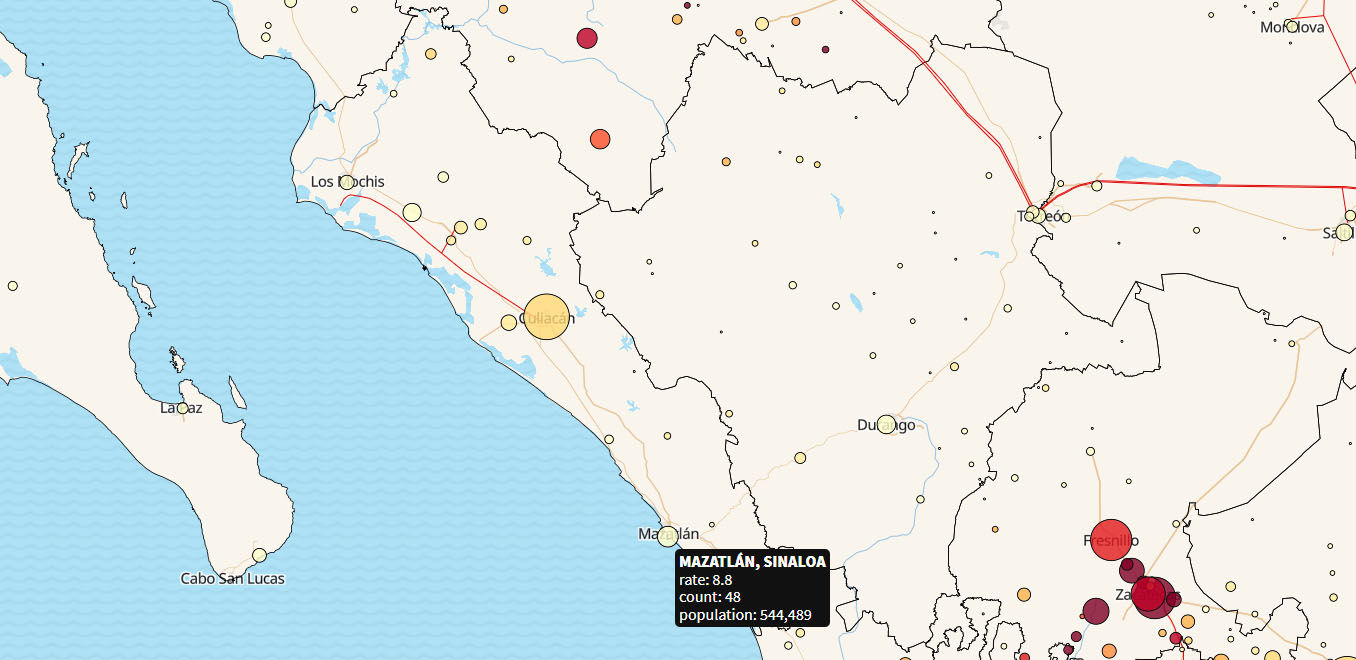 The crime rate in Mazatlan is only 8.5%, much lower than the 27.4% in Culiacan and significantly lower than other zones (which you can identify in red on the map above). With Mazatlan's impressive safety record, 2023 looks like a year of increased safety and security.

In summary, although we need to take caution any time we travel, it's important to remember that Mazatlan is consistently becoming a safer place for tourism that you can travel to in 2023.

Based on the information available, Mazatlan is a safe city for tourists. However, it is always important to be aware of your surroundings and take precautions, such as staying in well-lit areas and avoiding walking alone at night.
Tips and Resources
Based on the information available, Mazatlán is a safe city for tourists. However, it is always important to be aware of your surroundings and take precautions, such as staying in well-lit areas and avoiding walking alone at night.
Here are some additional tips for staying safe in Mazatlan:
Be aware of your surroundings and keep an eye on your belongings.
Avoid walking alone at night, especially in less-traveled areas.
If you'll be out late, let someone know where you're going and when you expect to be back.
Don't carry large amounts of cash or wear flashy jewelry.
Be respectful of local authorities, customs, and traditions.
By following these tips, you can help to ensure a safe and enjoyable trip to Mazatlan.
Resources
10/2/22 - US Travel Advisory: Mexico Travel Advisory
6/9/23 - Canada Travel Advisory: Mexico Travel Advisory
4/1/23 - Sinaloa Crime Statistics (Sinaloa Traffic Light)
5/22/09 - Mexico Crime Statistics
6/16/12 - Puerto Vallarta Sfety